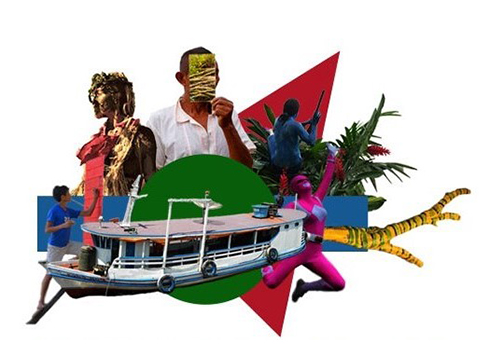 Tecno Barca
TECNO BARCA is a non-governmental nomadic project that navigates on the Arquipelago do Bailique.
On a boat filled with artists and creative minds, the program takes an interest in developing creative processes in art, education, environmental issues, new technologies, and socio-cultural exchanges with the riverside communities of the Amazon River.
Artists and professionals from the cultural field are invited to develop public activities in harbors, main squares, schools, communitarian centers, or even directly on the boat, as the ship is used as a floating gallery for contemporary arts and a platform for experiences, exchanges and collective thinking between artists, researchers, and the local communities.
The residency program generally lasts for 15 days and gathers on the boat up to 15 artists without restrictions of age, gender, career level, or cultural background. The artists on the boat will share rooms and workspaces and have access to collective spaces to organize exhibitions, workshops, community building, performances, classes, expeditions, and open-studios. The applicants should send a curriculum vitae, an artist statement, and a project proposal. The selected artists will be oriented in their practices during the residency and receive curatorial follow-up from professionals of the cultural fields.
Artists and investigators are strongly encouraged during their stay to get out of their comfort zone and be open-minded to live the best experience in the pretty wild Amazonian region. The program aims to support humanist relations, the questioning of one's achievements, and the creation of actions and experiences for the Amazonian populations, often forgotten in the cultural and artistic fields.
Contact
Tecno Barca
Arquipelago do Bailique, Brasil
Map