What is AIRTVPro?
AIRTVPro is Artists In Residence Television's intranet platform available to member residencies.
By subscribing to AIRTVPro, you will have access to:
- The management of your full residency profile. (Only for "Full Access" members)
- The management of your Open Calls for Applications and your Events (Only for "Full Access" members)
- A variety of video interviews on best practices for managing art residences by industry professionals. Among the topics, you'll learn about the management of a residency, from financing to partnerships, collaborations and communication, how to formulate an open call, how to manage artists… Each video is decoded and enriched with an in-depth article on the subject. Each of our interviews is subtitled in Spanish, English and French.
- A general discussion group opening the dialogue on contemporary topics. The most relevant elements will be archived online in the form of Frequently Asked Questions.
- AIRTVPro newsletter
- Discounts on guides and webinars
All features of Free and Limited Access and:
Extended translation service
Referencing (Up to 6 artistic disciplines and 12 criteria)
Full AIRTV communication service (social networks, newsletter, groups of interest)
Add your social networks, create your photo gallery, share your online documents
Publish your open calls and events

(1) Residences with an annual budget < 5000 €
(2) Residences with an annual budget > 5000 €
Other services
Consulting & Management (residence)
You would like advice in terms of residence management, we are at your disposal to inform you about the latest programs, trends, means of financing, communication tools, audiovisual production, relevance of networks and partnerships.
Or you want to design your residency, we can help you establish your business model, programs, calls for applications, and activities to develop with the artists during their residency, according to your needs, desires, and environment.
We provide you with all the tools you need to increase your visibility and professionalize your residence.
Webinars (artists)
Individual or collective sessions to help artists: portfolio development, writing cover letters, project development and presentation, and listing of residences suited to the artist's aspirations.
Call for publication
You wish to communicate a call for applications or an event concerning a residence that does not have a video, you wish to publish a call related to the funding and mobility of artists, we can relay the information.
Publicity
If you want to promote your products, we have several advertising spaces on our website as well as on the Intranet.
Audiovisual production service
Would you like to use our audiovisual production services? We establish quotes on demand according to your project: Realization of a video presenting your project - Interviews of professionals, cultural agents, and artists on various themes related to your context - Realization of reports - Audiovisual coverage of your events, conferences, openings and other artistic activities ... Contact us and we will help you establish an audiovisual communication plan.
Our guide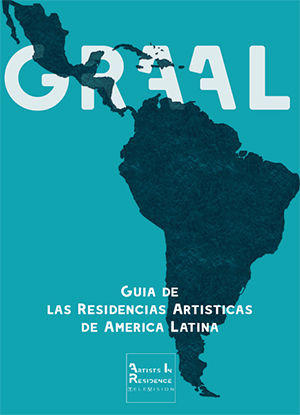 - The GRAAL -
Guide of Art Residencies
in Latin America
An in-depth guide to 600 art residencies
in Latin America and the Caribbean.
Pre-order