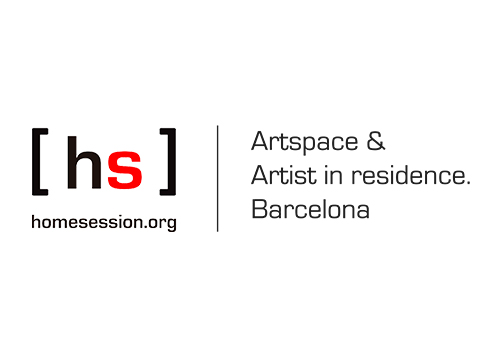 Homesession
Since 2007, Homesession has been encouraging creation in the field of visual arts: its support activity for artists articulates a residency open to international artists and a project production program dedicated to Spanish artists.
Can you introduce yourself?
My name is Danilo Pioli, and I am coordinator of Homesession programs since 2016. I've been in Barcelona since 2005 working as a cultural manager in art spaces, festivals, dance and theater companies.
Can you present your project?
With its continuous effort to support creators and disseminate their work, Homesession welcomes proposals that draw on a wide range of media and practices, always favoring interdisciplinary experimentation.
Homesession's activity is articulated in 4 programs of creation, diffusion and mediation: RESIDENCY, INVITED, EXCHANGE and POLARITATS.
Could you present the residency program?
Homesession Residency is a residency program for artists and art professionals who want to develop their research or projects in Barcelona. In 2012, Homesession Studio opens its doors offering a new space for this program, which consists of an apartment for residents, an exhibition area and shared work spaces. Homesession generally offers 2-month residencies, providing artists with the opportunity to enjoy the interactions that can be generated from a culturally active neighborhood in the center of Barcelona. Homesession's involvement in the local art scene makes the stay a key experience in the creative process.
What kind of artists can apply to your program?
Working international visual artists.
What does Homesession offer the artist in residence?
Work space, housing, the possibility of presenting their work in an exhibition format or meeting with the public.
Homesession also favors connections with artists, managers and cultural entities in the city, as well as support and follow-up in the realization of their project.
What do you ask of artists during their residency?
How can we help you in the realization of your project?
In what presentation format do you feel most comfortable sharing your research or project with the public?
Do you think your residency has an impact on the cultural and social context of your city or country?
Homesession has been the first independent space in the city of Barcelona to open a residency for foreign artists, working to facilitate the connection between artists, curators, critics, cultural entities and spaces.
Throughout these 12 years of activity it has built an extensive network of collaborators both locally and internationally.
Homesession also activates programs of production and exhibition for local artists as well as artistic mediation, works for the professionalization of artists and the diffusion of the language of contemporary art to the greatest number of people.
Homesession strives to complement the work of the institutions of the Barcelona art scene. It makes room for daring and innovative proposals both in their content and in their format and aesthetics, giving space to the unexpected.
Why do you think artist residencies are important?
Artistic residencies involve the temporary immersion of artists in a context different from their usual environment. They have become an important element of their artistic careers. These programs are essential to favor international mobility, the connection between the local and the global that is characteristic of contemporary creation. Creation or research residencies contribute to weaving relationships between creators, territories and cultures, and are a basic tool for exchange and cooperation.
They are also a tool for exchange and cooperation; an element of connection between the local and the global; between disciplines and fields traditionally separated. They generate context, knowledge and connections.
Contact
Homesession
C7 Creus dels Molers 15 bajos, Barcelona, Spain
Map