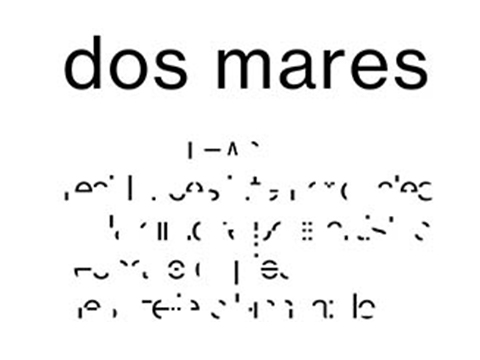 Dos Mares
Dos Mares is a public cultural center created in 2013 by Ronald Reyes Sevilla and Laurent le Bourthis in Marseille, the second-largest city of France located on the Mediterranean Sea.
Organized as a curatorial platform for transnational and interconnected projects, the center supports investigations, productions, and innovations in the fields of arts. Dos Mares seeks to accompany researchers and artists in their work's reflections, in the critical analysis of their practices, and in the development of their interdisciplinary network. Through these processes, the project aims to be a production center of interdisciplinary knowledge, trans-local practices, common cultural objectives, intercultural collaborations, and alternative economies.
Dos Mares encourages the cultural mobility and visibility of national and international visual artists and curators through residency programs dedicated to the investigation, immersion, and experimentation more than to the production. The main objective of the residency is to question artistic problematics, processes, vocabulary, and approaches in a stimulating framework propitious to dialogue and encounters. Up to twenty artists are accepted each year into the program that lasts from one to three months. Two selected artists will be hosted simultaneously in a flat and have access to shared studios, a library, computers, printers, and exhibition spaces. In addition, artists will receive a weekly curatorial follow up on their projects and the help of Dos Mares to help them in their research for grants. Artists will be given the opportunity to give some workshops, community building activities, conferences, publications, professional coaching, and open studios. Strongly connected with Latin America, Dos Mares welcomed artists from Colombia, El Salvador, Costa Rica, Guatemala, Cuba, Mexico, Puerto Rico, Peru, and Chile.
Contact
Dos Mares
5 rue Vian, 13006 Marseille, France
Map