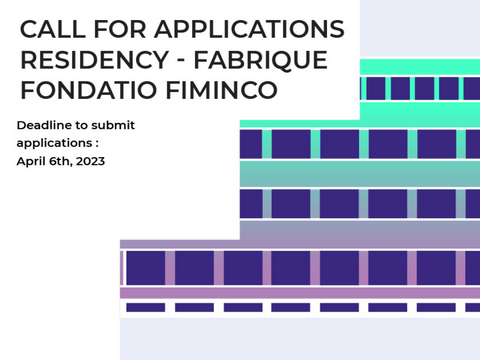 RESIDENCY - FABRIQUE FONDATION FIMINCO, 2023-2024
Fondation Fiminco has invested in a former industrial site in Romainville, on the outskirts of Paris and accessible by the metro, to create a place that supports artists from all over the world and open to all audiences.
Designed for artists, this project aims to provide space, tools, and support to create a working environment for artists, across disciplinary practices.
Can you present the residency program?
The Foundation Fiminco supports creation, research, experimentation, and production by contemporary artists. Each year, the Foundation welcome transdisciplinary visual artists for an 11-month residency in research, creation, and production.
What kind of artists can apply to your program?
The residency is aimed at visual artists residing in France or abroad, without an age limit, who can demonstrate a professional practice, either emerging to established.
What do you offer to the artist in residence ?
Resident artists will have a furnished studio with a private bathroom, a shared kitchen, and common living areas. The artists will have a workspace in spacious collective studios and access to well-equipped technical workshops (engraving, silk-screening, ceramics, 3D printing, construction, photo and video). A production grant of up to 5,000 euros (including tax) for the entire duration of the residency is allocated to the artists upon presentation of supporting documentation and with the supervision of the production team. The Foundation supports the artists in their administrative procedures such as visa applications and, if necessary, can guide them in their search for additional grants. The residents receive professional support according to their needs.
What do you ask of the artists during their residency?
The artists can be involved, if they wish to, in the programming and mediation activities of the Foundation Fiminco throughout their residency with paid interventions. The residency will end with a group exhibition in June 2024.
Do you think your residency has an impact on the cultural and social context of your city or country?
As a true local player, the Foundation Fiminco has been developing partnerships with cultural institutions, local authorities, schools, and associations in the region since it opened, in order to carry out educational, artistic, and cultural projects for audiences that are often far removed from the cultural world. The foundation has entered into several partnerships, notably with the Est Ensemble public territorial establishment, La Villette, and the Seine-Saint-Denis department to encourage the implementation of artistic and cultural education projects in schools and cultural facilities in the area. These collaborations allow the artists in residence to participate in meetings with the public, to lead one-off workshops, or to propose a longer-term cultural action project.
Do you think art residencies are important? For what reasons?
The aim of the Foundation is not to build up and display a collection, but to support the residents throughout their creative process, accompanying their professional and artistic development.