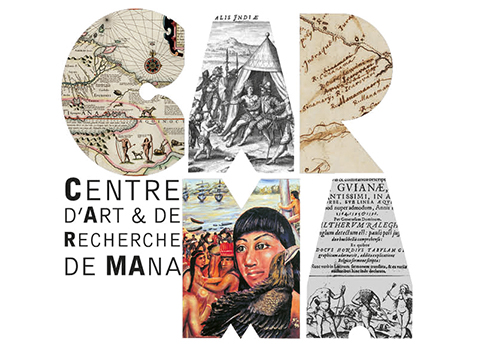 CARMA – Centre d'Art & de Recherche de Mana
Active since 1994, the association Chercheurs d'Art gathers contemporary artists and traditional craftsmen of the western part of French Guyana.
It aims to promote art through a large panel of cultural activities, from exhibitions to publications, workshops, or art classes in local schools. In 2014, the association inaugurated its Art & Research Center in Mana, CARMA, a new space dedicated to exhibitions and art residencies.
« CARMA is a space dedicated to contemporary creation and to the promotion of all types of craftsmen in Guyana. We are at the 2nd exhibition since 2014, they are semi-permanent exhibitions that rely heavily on the production of artists during the residencies that we organize here and outside the walls », indicates Elisa Boutet, administrator of CARMA.
The residency program is funded by the European Commission and allows the center to receive artists from abroad for a period varying from a few weeks to several months, depending on the project. The goal is to bring one contemporary artist around a predefined theme, as the forge, the ceramics, or the basketry, to work closely with craftsmen of the region that are still using ancestral and traditional techniques.
« That is also the goal, to bring together people who, even if they are interested in the same technique, the same practice, the same type of artistic field, will have visions and conceptions so different that it can clash or give place to new reflections which are really interesting for us », explains Elisa Boutet.
Open to every artist without nationality or disciplinary restrictions, the artists in residence will be provided with a workshop, accommodation, transportation, all the necessary materials and help to create artworks and visibility on the production and the exhibition at the end of the residency.
With very few spaces dedicated to contemporary art in French Guyana, CARMA plays a very important role in the democratization of culture on the territory and the understanding of traditional practices as part of the contemporary scene as well.
« The art residencies are really interesting because the primary goal is to give rise to exchanges that will lead to reflections that we would never have been able to think of without these meetings. It also makes it possible to make known what is happening here, to take a little distance from this territory which is a little landlocked, and to fuel an entire artistic production », confides Elisa Boutet, CARMA's administrator.