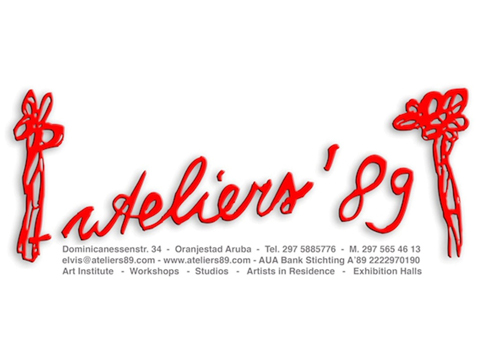 Ateliers 89
Ateliers 89 - Academia di Bellas Artes Aruba Foundation - is a non-profit organization and cultural institution initiated by Margriet Kruyver and Elvis Lopez in 1998.
Ateliers 89 actively works for the democratization of contemporary arts in the Caribbean region, especially towards children and teenagers.
The center, based in a former tropical hospital, organizes numerous sociocultural projects, art initiatives, exhibition programs, and educational workshops in various disciplines instructed by teachers and professional artists with international careers. The different workshops generally last four weeks and always end up with an event open to the public. The main purpose of the educational programs is to let the local youth experience a full spectrum of contemporary arts so that they may choose to pursue an artistic career in the future.
The residency program opened since 2006 is self-directed, production-oriented and only open to international artists, as local artists have other opportunities such as the exhibition programs. Up to three artists will be simultaneously hosted in private apartments on the compound for periods varying from one to three months, and they will have access to a private studio, numerous workspaces, a theater, and exhibition rooms. Artists are asked to give workshops and classes during their stay to enrich some of the other center's programs, and the residency ends up with an open studio or a public event fitting the artists' subject. Up to fifteen artists are accepted each year into the residency, and they may apply all year long by sending a resume stating their website, an artist statement, a body of artworks, and a project proposal.
Contact
Ateliers 89
Dominicanessenstraat 34, Oranjestad, Aruba
Map